Accessible Math Content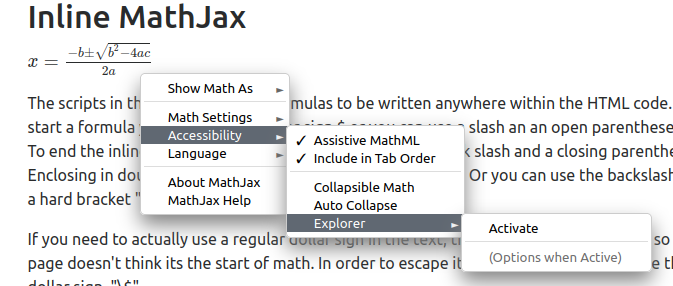 Accessible math content in HTML files using LaTeX or TeX code and converted during page load. Formulas can appear in the block style where the formular takes up an entire line or inline with other text. Formulas can be navigated by screen readers and stepped through item by item. Formulas can also be right-clicked to expose additional settings and options to convert to other formats.
See a sample of the renderings below. Open in CodePen to edit the formulas to see the result. I also have presented these concepts at a few international ed-tech conferences. Here is a copy of the conference presentation I delivered at D2L's Fusion Conferences in Las Vegas and Houston in 2017 and 2018.
See the Pen MathJax Inline TeX Example by Dean (@josdea) on CodePen.